I was nominated by the lovely Kate of
Actually I Do
for our newly started
Brighton Etsy Team
Blog Hop, in which we all answer the same questions (created by Kate) so that we can get to know each other a little better and tell people about ourselves and what we are up to. Please follow the links through and you'll get a great introduction to our thriving crafty community!
What inspired you to start your business or Etsy shop?
Well to be honest it sort of happened by accident, I've been a maker for as long as I can remember, mostly making gifts for people but occasionally making things for myself, then I started making knitting needle bracelets for friends and had given some for my parents to try and sell on their stall. At that time I was an avid follower of my friend Emily's adventures into handmade selling (
see her Etsy shop cuttlefishlove here
). Emily makes beautiful Japanese folded flowers, an art known as Kanzashi and I could see that she was involved in a supportive network of makers here in Brighton.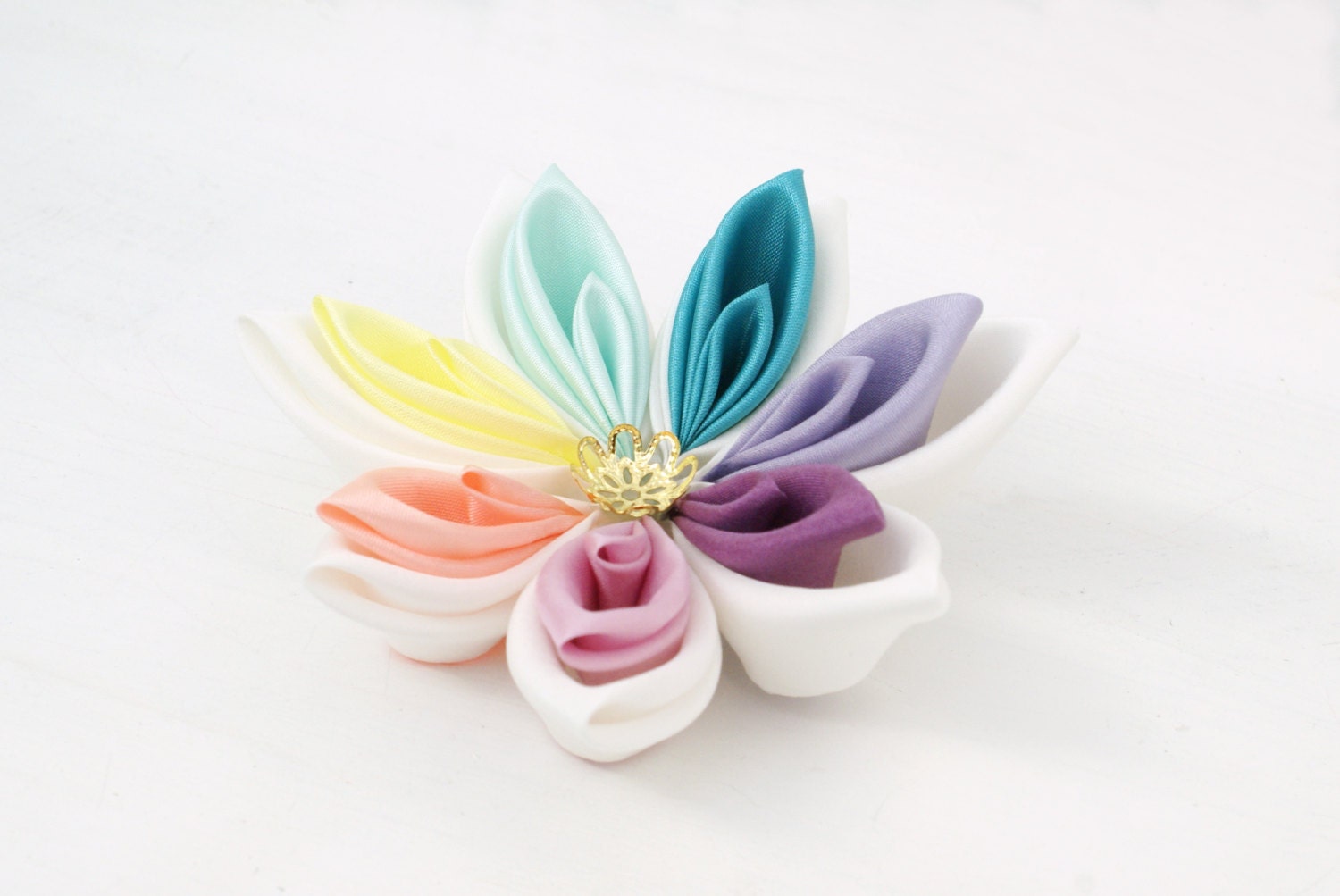 An example of Emily's Kanzashi.
I soon realised I should be trying to sell my own makes myself, and so I gradually built up a selection of designs as well as the bracelets, opened my own
Etsy shop
, and joined the Brighton Etsy Team. Luckily, early on in my Etsy adventure,
Etsy Mentor Month
happened and I was given an amazing introduction to all sorts of Etsy tips and tricks by my mentor Kelly Stevens of Etsy shop
FabFunky
. It gave me a great insight into lots of things I hadn't a clue about, Kelly really got me set-up properly and raring to go!
We're looking at goals in the Brighton Etsy Team this month (you can follow along with #btnetsygoals!) Can you share one of your goals for your shop for the next six months?
I missed the Etsy meeting about this and although I have made vague plans to 'BE BRAVE' as a goal this year and try new things. Apart from that I haven't actually got any specific goals yet, except that I really need to photograph stock more regularly and get my available items back up to the 100
area, it's dismally low at the moment and that does not help with views and visibility within the Etsy community. I'm cheating and adding more vague goals here but I also have aims to try and make my Instagram more chic, keeping the images of a high and consistent quality.
Last year was absolutely great, I had many unexpected positives happen without planning them (for more on that see my round-up of 2014
here
) and I'm hoping that by building on my brand, working on new designs, broadening my range, being involved in the Brighton Etsy Team and sticking to BIG knitting shows (being BRAVE there!) that my shop (and I) will continue to grow and consistently make sales throughout the year. I guess one more specific goal could be to reach a previously un-found audience through my blog, I'm aiming to write about 1 post per week or fortnight, and so far I'm sticking to it!
What are you working on at the moment?
One of my being BRAVE moves has been to book myself into a few BIG knitting shows this year, the first of which I have been accepted to is the
Edinburgh Yarn Festival
next month, this is massive for me, travelling that far for a show and making a bigger investment than before. I'm currently getting stuck into making tonnes of new stock and sorting out my display so that it is portable enough to allow me to get all my stuff to Edinburgh and so that it looks professional and a little more chic than before. As I mentioned in an earlier blog post I have commissioned
ByHookCrochet
to create me a series of crochet bowls and boxes that my stock can sit in on the table, these are due to be finished this week and I'm very excited about receiving them.
If you could give other sellers or someone looking to start their own design/craft business one piece of advice what would you say?
Join a local Etsy team! It has been the most inspiring thing to help me in so many ways on my journey to becoming an Etsy shop owner, it's so good to share the highs and lows with people who are going through the same as you, it's a way of meeting a like-minded bunch of creatives and of learning more about running a creative business. I realise I'm very lucky being here in Brighton as we have a thriving group headed by a team of amazing people, who regularly put on events, talks, parties and monthly meetings, this really helps with the community feel of the whole thing, if you aren't lucky enough to have such a team near by I would suggest that you aim to try and make that happen!
If you fancy checking out more Brighton Etsy Team makers and their blogs, here's our
blogroll
.